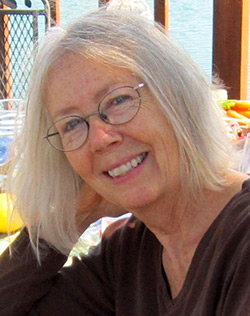 I come from a long line of mostly technologically-impaired late-bloomers. That's one reason I chose my first profession as a psychotherapist in my 40s (didn't need a computer), and why I didn't begin writing until my early 50s. I think there's a lot to be said about waiting for age and experience to lend some direction—or perhaps that's just what we late-bloomers say about ourselves.
At any rate, I am now a seasoned psychotherapist in private practice; I'm a published writer (affiliated with the Redwood Writers branch of California Writers Club), and songwriter; I'm a founding member of Lavender Roses Reader's Theater; I sing in the One Heart Choir, the musical ministry branch of the Center for Spiritual Living; and as important as anything else in my life, I am "Grammy" to wonderful twin grandsons.
Welcome to my website; I hope you'll take a moment to browse about. My former blog, Jo's Creative Universe, can now be read under Recent Posts. I would love to hear from you, and can be reached by e-mail: josrca@sonic.net.
Killed by a Silver Bull
Killed by a Silver Bull is the third in "A Little Old Ladies Mystery" series where, once again, Amanda and Marion, housemates and best friends, while attempting retirement, are dragged into the middle of an unsolved murder.
This time, an elderly woman's death is about to be ruled as cardiac arrest by the local ME until Marion's psychic gifts—or curses, depending on the day—are pulled into play when the elderly, quite dead woman calls to her in the middle of her funeral, Follow the bull!
Amanda, long time sleuth-at-heart, joins in to crack the case. This leads them to interact with a host of unsavory characters who lurk at the edge of the neighborhood park, and the woman's ner-do-well nephew who has a lot to gain by her death.
Just as one mystery is solved, Amanda gets the surprise of her life when someone who she thought was dead reappears, bringing with her the chaos of her past and the possible discovery of a black-market operation on a commune in the Ozarks.
It's looking less and less like retirement is in the stars for Marion and Amanda. Sigh.