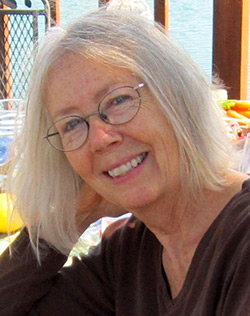 I come from a long line of mostly technologically-impaired late-bloomers. That's one reason I chose my first profession as a psychotherapist in my 40s (didn't need a computer), and why I didn't begin writing until my early 50s. I think there's a lot to be said about waiting for age and experience to lend some direction—or perhaps that's just what we late-bloomers say about ourselves.
At any rate, I am now retired from my 38-year career as a psychotherapist; I'm a published writer (affiliated with the Redwood Writers branch of California Writers Club); a songwriter; and most recently a screenplay writer. My story, Roots in My Garden was adapted in 2022 as an independent film. I'm a founding member of Lavender Roses Reader's Theater; I sing in the One Heart Choir, the musical ministry branch of the Center for Spiritual Living; and as important as anything else in my life, I am "Grammy" to wonderful twin grandsons.
Welcome to my website; I hope you'll take a moment to browse about. My former blog, Jo's Creative Universe, can now be read under Recent Posts. I would love to hear from you, and can be reached by e-mail: josrca@sonic.net.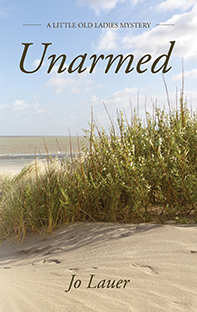 Unarmed
In this fifth book of A Little Old Ladies Mystery series, Marion and Amanda, the frazzled psychic-sleuthing duo, return home from closing the murder case in Las Vegas and look forward to kicking back. Easily done, since the COVID pandemic has arrived. Even though shelter in place is in effect, cabin fever overcomes them and they're off to the beach. In the dunes, they discover a missing body part that leads them to a friendship with a mysterious woman who disappears soon after.
They get a surprise visit from Gert, the helicopter-piloting lesbian they met in Santa Fe, who becomes part of their extended family, and from Marion's slimeball ex-husband, who does not.
The three women plan a future together and invest in a bedraggled yet elegant lavender Victorian that comes with its own "cursed" treasure. Will they choose unimaginable wealth that may lead to sudden death? The camps are divided. They celebrate this difficult choice by a weekend trip to a bed and breakfast at the ocean where they stumble upon Shaun, dwelling in a cave at the beach, having run away from a battering relationship.
Shaun joins the Lavender Lady household in time to lend her nursing skills when Chase, Amanda, and Marion's adopted daughter, goes into labor during the holiday meal and brings a new generation into the family.